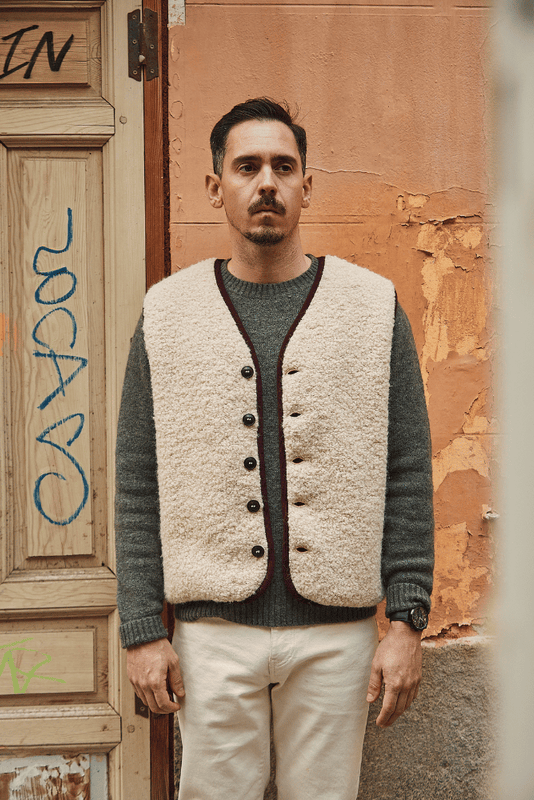 Geoffrey is wearing a size M. His chest is 98cm (38.5").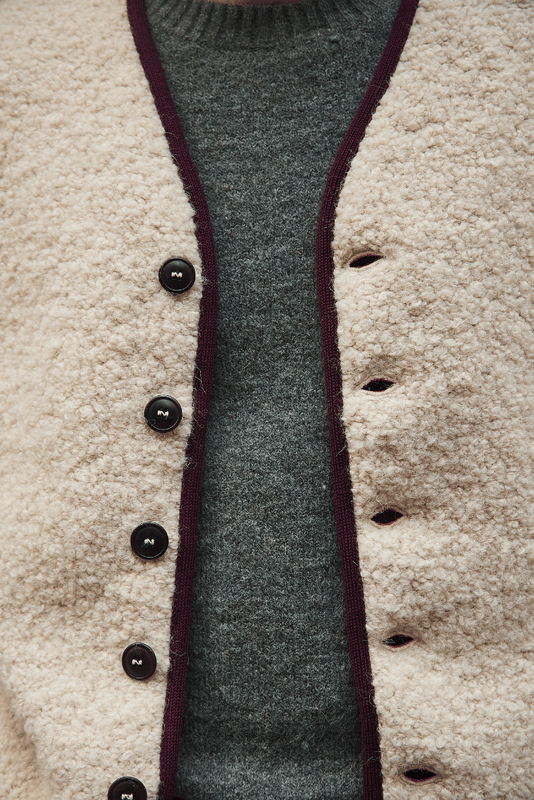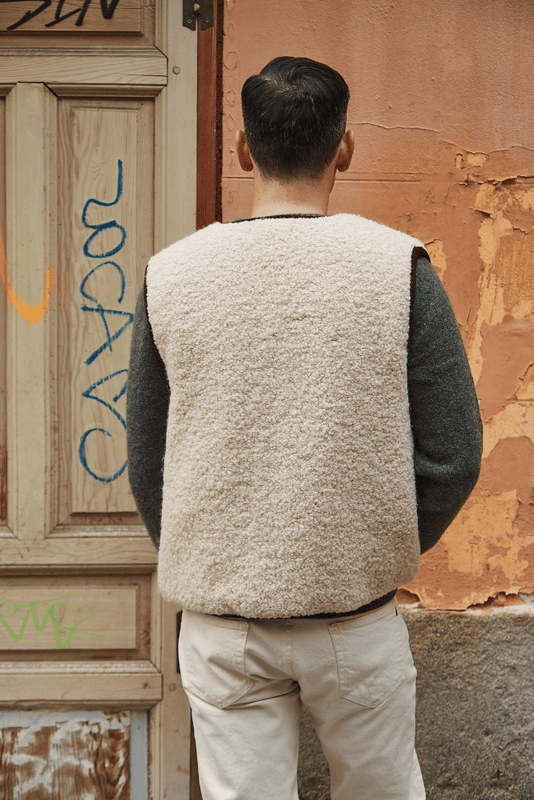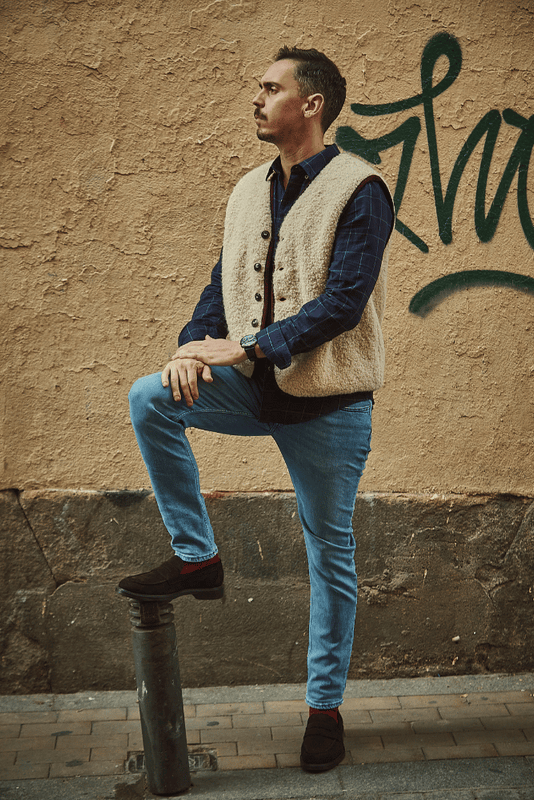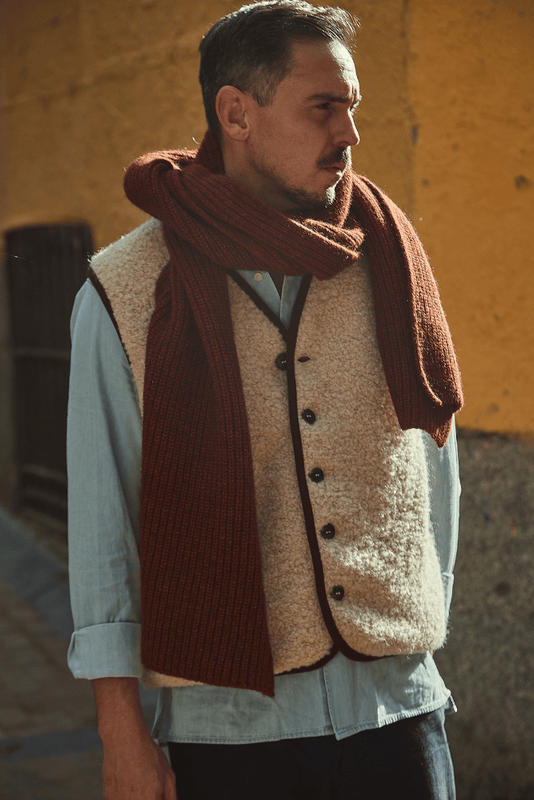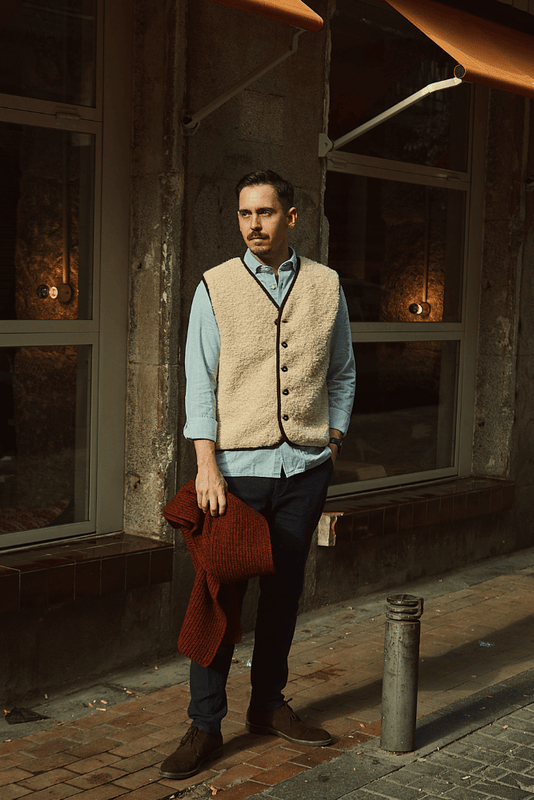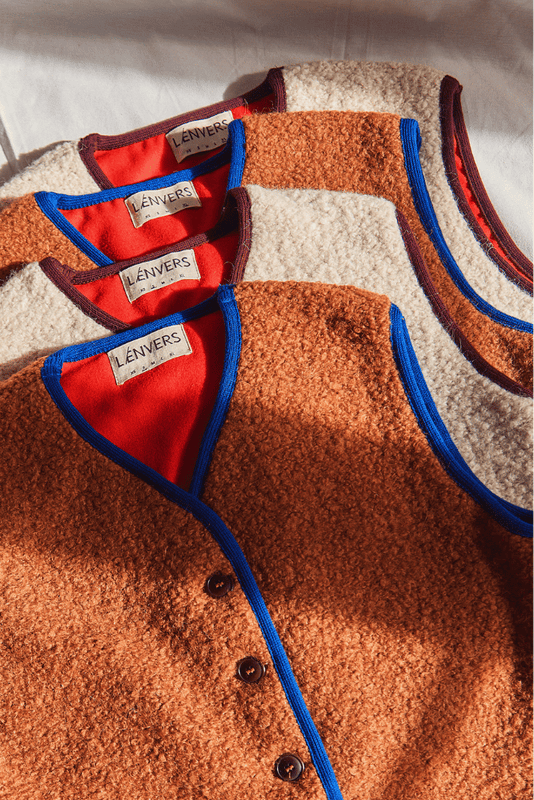 LUCIEN Alpaca Vest
curly alpaca - light_beige
€ 260
NEW FOR MEN! This men's version of our beloved women's LUCE vest in curly alpaca is warm, soft, and adds a vintage touch to any outfit. It is knitted to order in family-run workshops in Spain where we live. Pre-orders are open now through Sunday December 10th, 2023 for an expected delivery at the end of January / early February 2024.
LUCIEN is the first style in our new Men's collection! It is an homage to one of Julie's favorite pieces at L'Envers, the chic and versatile LUCE Wool Vest, for men. Great fit, very warm, soft and comfortable, this piece will soon be your go-to item for winter.
Style note : Wear it on top of a turtleneck, a shirt or wool sweater.
A warm and timeless piece of great quality to wear times and times again, and pass on.
CHARACTERISTICS & FABRIC
Outer layer : 64% Alpaca 27% New Wool, 9% Polyamide
Lining : 100% cut-and-saw wool from a French luxury fashion house deadstock
Piping : 100% organic cotton
Extra soft curly alpaca wool - perfect for sensitive skin
A comfy piece that is quite thick and very warm
Fastened by 5 brown buttons made of Corozo
V-neck vest

We offer pieces made with materials of exceptional quality so that they will last over time, but the way you care for them is just as important. We advise you to hand wash your L'Envers piece in cold water and lay it out on a flat surface to dry.
For more information, check our care guide!
Selecting your size online can be a bit tricky, especially for a first order. But by following our advice you should be able to make the right choice for your purchase, like over 94% of our customers. Otherwise, no worries: we can advise you personally and ultimately you will still be able to exchange your piece if the size isn't right.
Tip: take your usual size. If you like it more fitted, take a size smaller knowing that knits usually loosen slightly once worn. The tolerance for the size indicated on the size guide can be +/-2cm or +/-1in.

For more information, check our size guide. 
Shipping from end of January 2024 / early February + delivery time is 3-5 business days.
Share this product
Lucien Measurements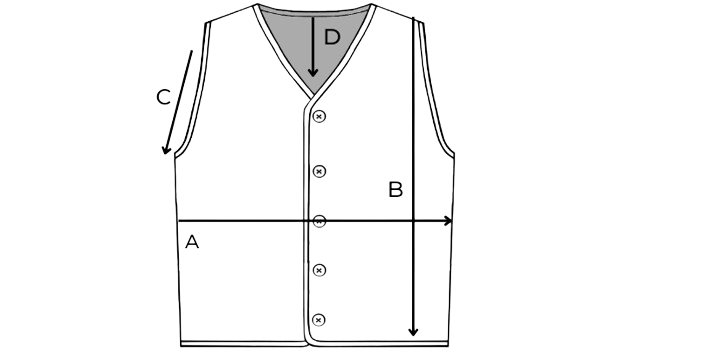 Our pieces are handcrafted one by one upon order, from the finest materials. The handcrafted production is not an exact science and implies measurements may vary +/- 2cm (+/- 1in), making each piece truly unique. All measurements are taken flat on an unworn piece, please note that once the piece is worn its measurements will vary.
 

S

M

L

A

Chest width

57cm

22inch

B

66cm

26inch

C

26cm

10inch

D

V-neck depth

20cm

7.8inch
A WORD FROM JULIE

"Thank you to everybody who participated in our online survey to choose the brand new colors for our LUCE & LUCIEN Alpaca Vest a few months ago!

We are delighted to open pre-orders for this comforting and warm addition to L'Envers winter wardrobe in 2 beautiful color combinations.

Style available for women called LUCE as well as for men, aptly named LUCIEN!"


Julie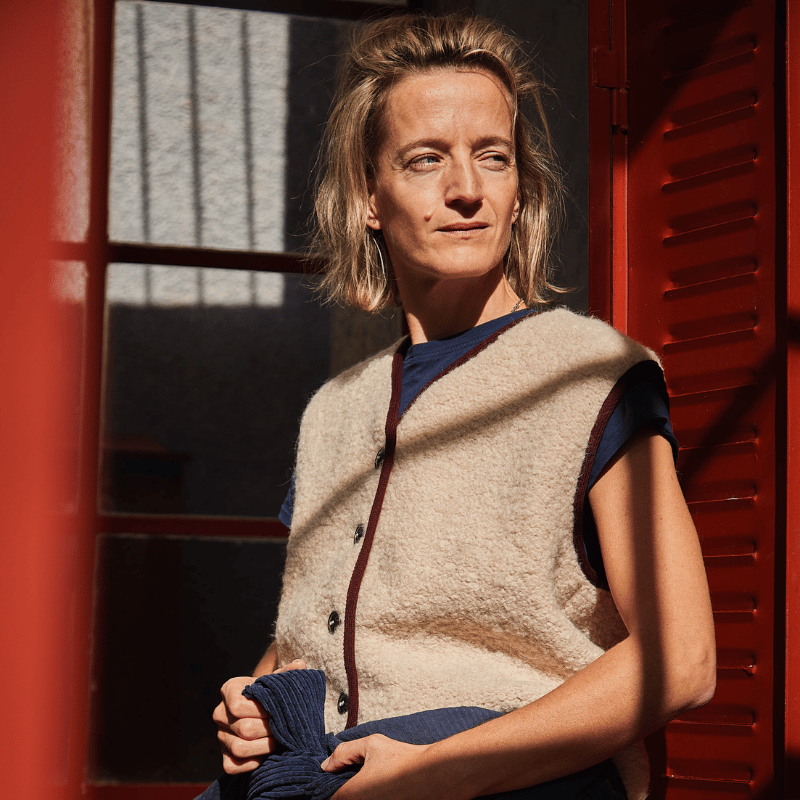 WHY PRE-ORDERS?

Since our beginnings, we have offered our knitwear on pre-order: we knit them individually once the order has been placed.

From now on, we want to do the same for our woven pieces but it is much more difficult: indeed we cannot dye a single vest, or cut a single piece of fabric with our workshop.

For the LUCE and LUCIEN vests, we have therefore decided to make a group pre-order for a limited time: from now through Sunday December 10th, 2023 for an expected delivery at the end of January / early February 2024.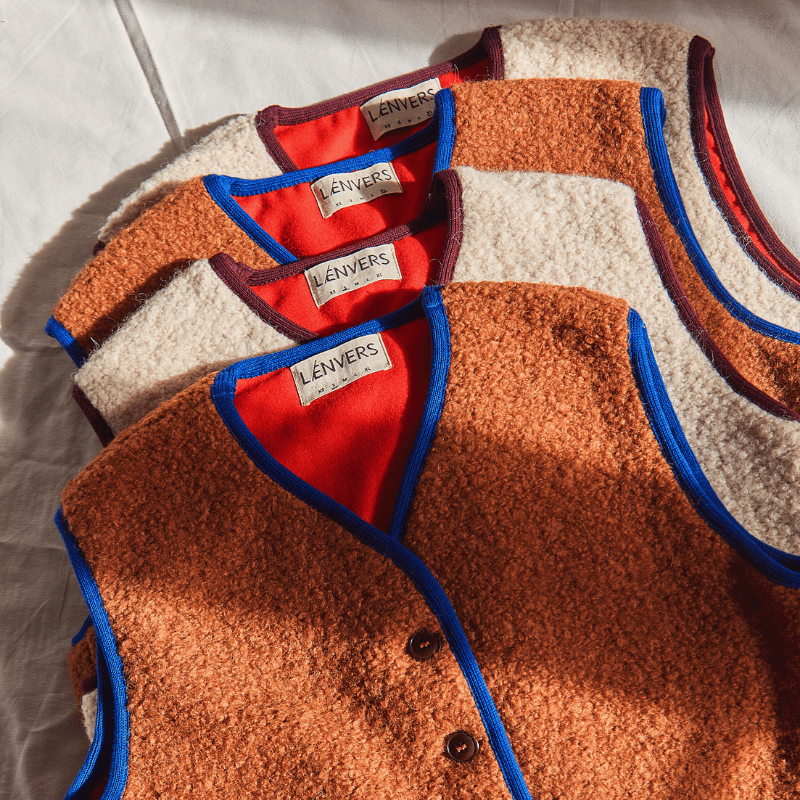 PRE-ORDER
HOW DOES IT WORK?

You can order LUCE and LUCIEN in the color of your choice until December 10.

Once the orders are closed, our craftsman Miguel Angel will knit and make all the vests.

Shipments will start from end of January.

We will produce a limited stock to allow for some exchanges, returns remain possible.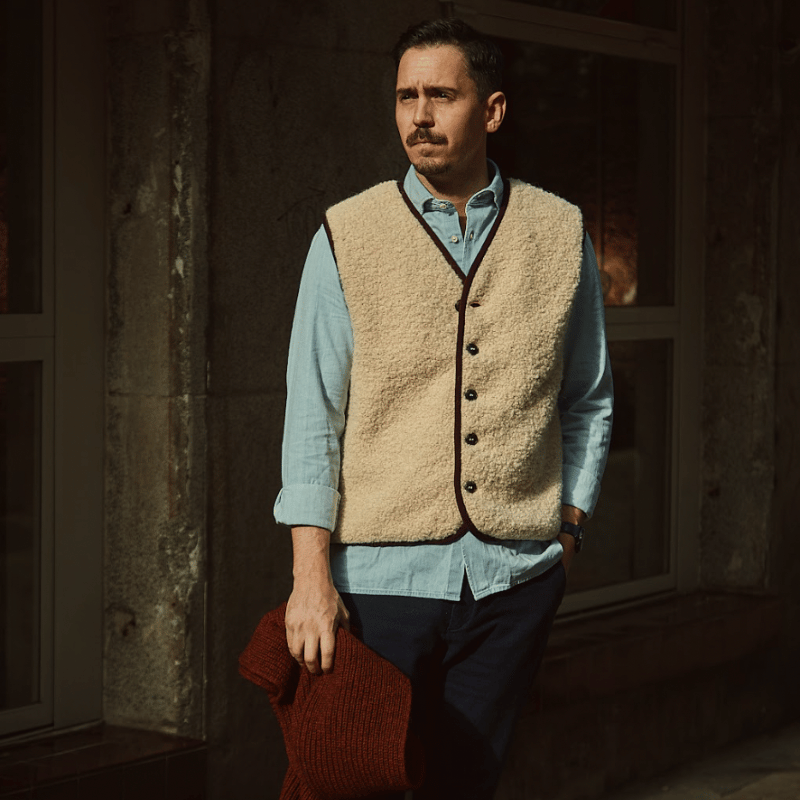 DEADSTOCK LINING

Upcycling is, for us, the best way to source woven fabrics. The woven wool lining of our LUCE and LUCIEN vests is made with a warm 100% wool fabric, coming from deadstock of French luxury houses.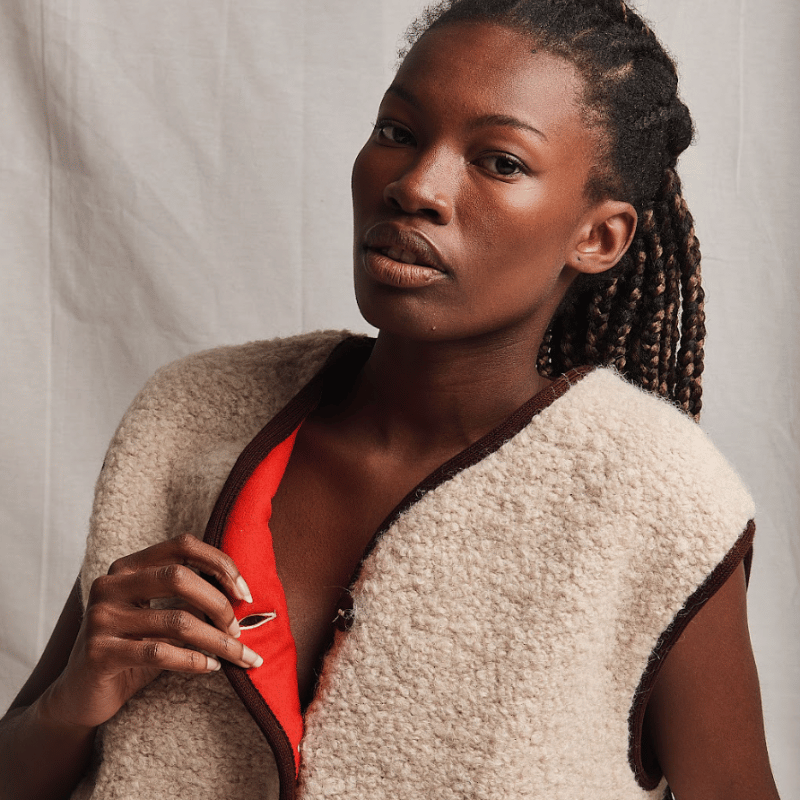 CUTTING & SEWING

We will produce a limited stock to allow for some exchanges, returns remain possible.

PRE-ORDER